A better view of construction™
Horizon Construction Group is defined by its exceptional people, a commitment to excellence and clarity on solutions.
Our people are our difference
As a client of Horizon Construction Group you will be supported by people dedicated to their profession, who provide leading expertise, insight, service and quality.  Building personal and successful relationships with each of our clients is at the centre of our approach to all operations.  Our people are passionate about going the extra mile and being proactive in their approach to ensure projects are delivered to the highest of standards.
With some of the best minds in UK construction, Horizon Construction Group has become a leader within the industry. Today, our East Anglia, South East and London operations now employ over 50 staff and are currently undertaking projects up to the value of £10m.  Our flexibility and talent-base allow us to deliver a broad range of construction projects.
We are proud to have built a reputation of reliability and quality which gives our clients the confidence in their projects.
Horizon Construction Group's process involves:
Our construction services are provided across the following sectors:
23 years of trust in construction projects
Horizon Construction Group celebrates its 23rd Anniversary. Enabling its clients to achieve greater confidence and clarity in their construction projects.
Who we are
Building successful relationships
At Horizon Construction Group we work to ensure our clients and people are the focus of everything we do.
What we do
Our commitment to excellence
ISO certified in construction management systems, we are committed to the highest of standards across all operations. We provide innovation and leadership through our team of dependable consultants.
Our approach
Our friendly and approachable team have the dependable expertise and experience relied upon to deliver construction projects with confidence. Meet our leadership team below and use "our people" button to see the remarkable talent across the business.
"The team at Horizon Construction understand and know how to deliver when it comes to the automotive sector. Both at JLR Southend and BMW Mini Hindhead to date, Horizon's approach to all aspects of the build provides confidence that expectations will be met. From assistance with co-ordination of direct subcontractors, to proactively ensuring smooth transition to an operational facility on completion, their smile and solve attitude ensures successful delivery."
"We have found the site, contracts and senior management teams to be professional, efficient and friendly to work with. Some of the projects have been in live environments where a sympathetic understanding of the customers business is essential, and I am pleased to report that Horizon Construction has a good understanding of the Automotive sector and the requirements of our core business."
"I have a long-established relationship with the directors from both the Colchester and London offices at Horizon Construction, working as the Project Manager and QS on a number of their healthcare and commercial construction projects. Their construction team is always professional, highly competent and dependable in their role. They have a very good understanding of their duties and the individual needs of their clients. Construction projects always have restrictions and differences around progress, quality and cost - Horizon Construction are always fair and understanding on all accounts. The quality of completed projects is excellent and the process of getting there is efficient and a pleasant experience. I am happy to recommend the services of Horizon Construction as a competent and approachable contractor."
"Oakland Care carefully selects principal construction partners to deliver the high standards and cooperation we expect during all stages of construction for our new care homes. Maplewood Court Care Home in Maidstone represented the first project working with Horizon Construction. We were delighted with the level of service and collaboration from their team. Not only was the project delivered within budget, but it was also one of the smoothest transitions to an operational site we have experienced. This is a testament to the expertise, experience and commitment of their team. The new 72-bed care home is now one of our flagship facilities in our portfolio, offering an exceptional and friendly home for its residents. Our team hopes to be working again with Horizon Construction in the future."
"I am working on my second healthcare project with Horizon Construction since starting my role at Healthcare Homes. Horizon Construction has worked with us for many years and developed a well-established and professional working relationship over many successful contracts. Horizon Construction has a very good understanding of our daily operations and has always had good communication links with our management teams, which is essential when working in live environments such as care homes. Their project delivery team is polite and professional and collectively deliver the project to a high standard and very much to our satisfaction. Healthcare Homes is very happy to recommend Horizon Construction to others in the healthcare sector."
"I have had the pleasure of appointing Horizon Construction as the main contractor on several occasions. Their strong ability to produce solutions to any unforeseen circumstances is one of the countless reasons why I would recommend them. Pre-contractual commitments such as advising and assisting with planning consent is one of many benefits of introducing Horizon Construction to a development. Throughout, they are pro-active and offer a 'smile and solve' approach. Horizon Construction's after-sales care is efficient and reliable with their positive attitude continuing once the job is completed. They are always happy to go the extra mile and have on occasion provided display housing to support with sales."
"We have found Horizon Construction to be a proactive contractor, taking an early interest in the project and always keen to have a role in the buildability of a scheme. Their site teams are professional and accommodating and happy to assist in any matter asked of them. We would happily endorse the services of Horizon Construction and very much hope to have a long and regular working relationship."
"We have used the services of Horizon Construction since 2007 for all our new build developments, major and minor refurbishments, alterations and pro-active maintenance. The directors and staff of Horizon Construction are professional, hands-on and adaptive to the demands of the project and the client requirements. Their work is of the highest standard and their management of projects is efficient and clearly demonstrates their extensive knowledge in the building industry. We can happily endorse their performance and quality of their work, and would readily recommend them to other developers or project managers."
"I have only worked with Horizon on one residential development project creating 8 houses to date, but importantly my first under my own direction and new company. They were understanding and easy to work with and found that they took an interest in duties and tasks officially outside of their remit, which was useful and certainly created the feeling of team spirit. I felt comfort in knowing that I am only a telephone call away from dealing with the company owners and would happily engage them in the future, and look forward to working with their team."
"One of the principal attractions of Horizon Construction's modus operandi is the transparency of the financial aspect. Right from the onset, through to the payment of contractors and suppliers, it is possible to see exactly where one's money is being spent and variations, both positive and negative, are easy to identify and understand. We have built up an extremely good relationship with all members of staff and have always found them to be helpful and approachable."
"Laurie Wood Associates has worked with Horizon Construction on a number of occasions across the education and healthcare sectors. We have found their commitment, work ethic and customer care both during the contracts and post-completion to be exemplary. Cost control is important to our clients and Horizon Construction is very often competitive without sacrificing quality or the customer experience."
"PCH Associates has built an effective working relationship with Horizon Construction over various projects in the education sector. They are always professional and understanding of the clients' requirements, whilst maintaining a quality product and a close and competitive eye on commercial controls. The construction team has always been commended by facility management teams as well as the project team at PCH. Horizon Construction's understanding of the sector is essential to the project's success, particularly as many schemes are built within live environments."
Our news brings together insight and commentary on industry issues as well as news and information about Horizon Construction. Keep up-to-date with our news by subscribing to our newsletter at the bottom of this page.
Publications
Welcome to the Spring edition of our quarterly publication that contains a roundup of construction news from across our business.
Insight
The construction industry is a large contributor to climate change. Phil Holding, Managing Director at Horizon Construction, explains why and provides an overview of the complex challenges the industry faces.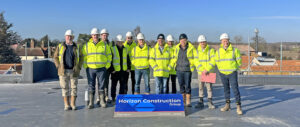 Corporate News
A significant project milestone was reached this month in the construction of a new £8m care home in Braintree for Avery Healthcare.
Publications
A sector-specific publication highlighting our current and recent construction projects in the commercial sector, with particular demand for industrial units and mixed-use facilities.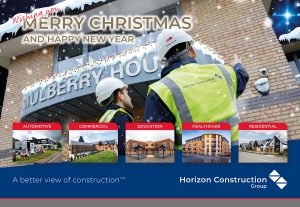 Publications
Welcome to the winter edition of our quarterly publication that contains a roundup of construction news across all areas of our business.
Corporate News
Horizon Construction starts work on £18m contract to build 122 new homes in Wickford, Essex, for Sanctuary Housing Association.